Wednesday – July 15
Improve your ranking, FREE, using a profile in Google My Business
In a previous post, we discussed about the use of a blog, why to create and maintain, as well as the importance of having one, since this helps us to achieve a better position within the search engines. – If you have not it, I recommend reading it. WHY DO A BLOG? – Continuing with the subject of positioning, let's talk about Google My business, what is it? What is it for? Why to have one?
It is no secret that one of the most extensively used search engines worldwide is Google, personally I use it as a preference, this company offers many solutions whether you are a "standard" user or an individual who uses as an essential tool for their work
If you have a website – and I will not rest of reminding you how important it is to position it among the first search pages – Google offers you within its resources you paid options to appear in the first positions where for a (variable) cost your website will be in the First page, this is known as SEM (Search Engine Marketing).
Adding to this, there is something called SEO – and this is what I wanted to get to – this means organic search engine positioning where you obviously have to make an investment of time and resources, but without a doubt, this is what you should be aiming for (if you don't have thought to spend a lot of your budget on positioning) and Google my business is a tool that helps a lot for the SEO.
What is GOOGLE MY BUSINESS?
"Google My Business is a free and easy-to-use tool for businesses and organizations to manage their online presence on Google, including Search and Maps."
https://www.google.com/intl/en/business/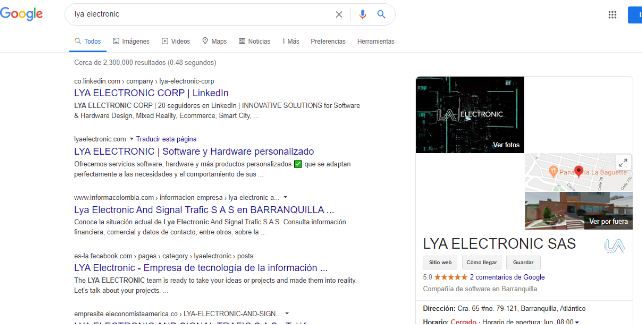 It is basically an account or profile of your company verified by Google, which appears on the right side of the search, it is worth to mention that your client must correctly enter the name of your company.

Your address will appear here and it will also register you in the list of companies that are in the same industry and geographic location, allowing your customers to know more about you, which would give them more assurance knowing that you are a recognize of company.
What is it for?
We already talked that it helps you with the positioning as well as it helps to strengthen the trust and recognition of your brand, on the other hand, your clients can know more information about your company such as the working hours, the address, see photos published by others or yours, the location on the map, your offices, an additional channel of interaction with your brand, you can publish offers, products or important messages as well as reviews that your customers leave about your business in addition to showing your website and if you do not have one, the platform will It allows you to create one simply and quickly (although we can also make your page – wink wink – self-promoting).
Why have a profile in Google My Business?
Let´s rephrase that question, to why not to have a profile in My Business? Study your content strategy if you have one, if not you should put together a marketing plan (we can also support you with that – Wink wink – self-promoting No.2) but how will hurt you or what would you lose by having your brand verified by Google? the process is very easy and relatively fast, the platform is simple to use, also let´s not forget to say that in this way you can protect and ensure that no one else takes your business name, at least not in this search engine.

In short, it is one more tool within your armory of digital marketing and in my opinion, the benefits outweigh any doubts or fears you may have about this concern.

I motivate you to create your profile! If you have doubts and you want us to answer some questions about this, write to us, and at no cost, we will guide you. Better yet subscribe to our newsletter that without a doubt this topic still has a lot of fabric to cut.
---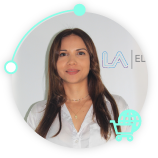 Daxara Moras –

E-commerce Strategiecs